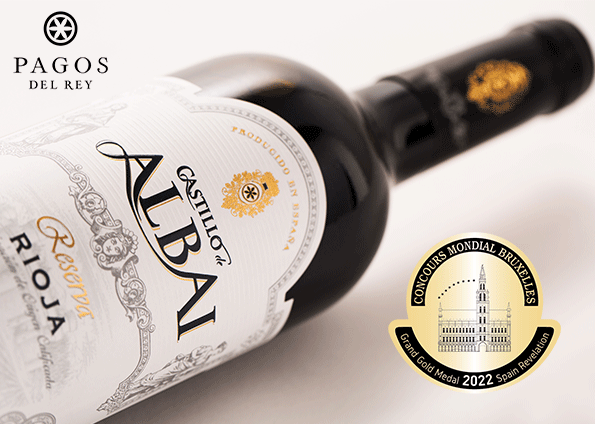 Castillo de Albai Reserve 2017, DOCa. Rioja, has been awarded with the Grand Gold medal at the Concours Mondial de Bruxelles. This prestigious award represents the highest recognition granted by the contest, which is only achieved by 1% of the participating wines. In addition, this Rioja, made in the Pagos del Rey winery, has been distinguished with the title "Best Revelation Red Wine of Spain".
Castillo de Albai Reserva is made in the Pagos del Rey winery located in the village of Fuenmayor, a privileged zone in the La Rioja Alta area. The region has a great wine reputation due to its exceptional weather and high altitude conditions. Its wines, characterized by their subtlety and elegance, are a worldwide benchmark for their prestige, history and quality guarantee.
Castillo de Albai Reserva complies with these particularities, to which is added the expert management of the production and ageing processes, which gives rise to a superb, elegant and very balanced wine.
The great experience of the Pagos del Rey winemakers is an excellent starting point for obtaining wines with character and suitable for ageing in barrels. The result is a range of Castillo de Albai wines (Joven, Crianza, Reserva and Gran Reserva) with guaranteed quality and unbeatable value for money.
In this regard, it should be noted that Castillo de Albai Rosado 2021 won the gold medal in the rosé wine edition of the Concours Mondial de Bruxelles, held a few months ago.
This event is one of the most prestigious internationally thanks to a rigorous evaluation process based on a model designed by the International Wine Organization and the International Union of Oenologists.
The Pagos del Rey project, which celebrates its 20th anniversary this year, arose with the aim of being present in the most relevant DOs, with unique wines and their own personality. It currently has wineries in the appellations: Ribera del Duero, Rioja, Rueda and Toro, in addition to the Wine Tourism project – Pagos del Rey Wine Museum in Zamora.